Beautifully restored Fischingen Abbey with two worlds under one roof
August 6, 2016 — No comments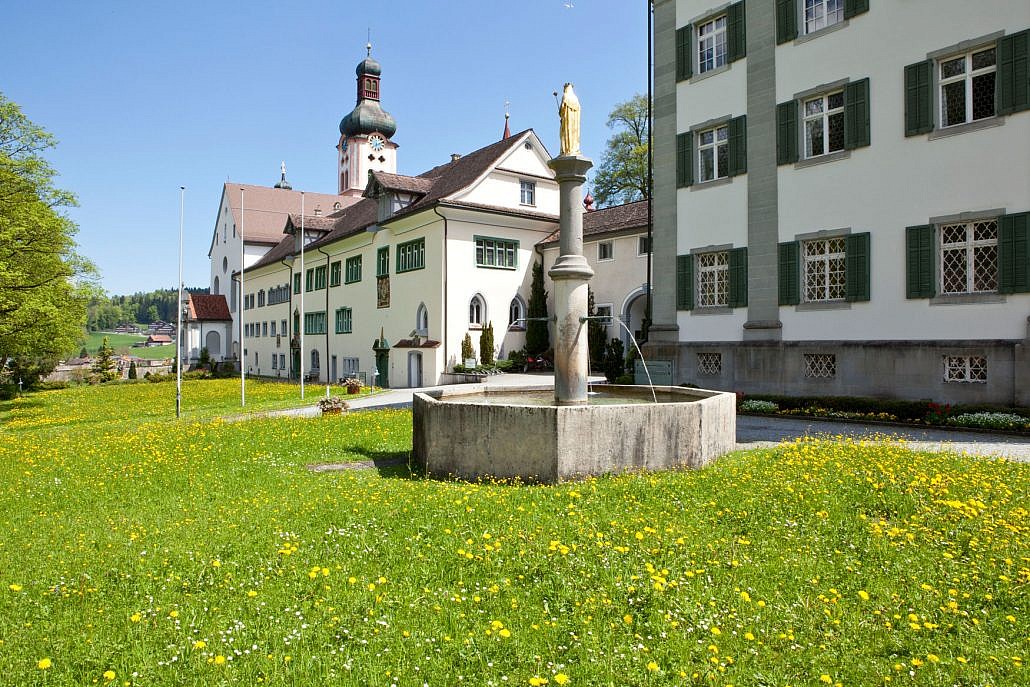 Midway on the Autobahn between the cities of Zürich and St. Gallen, twenty minutes off the highway, lies the small town of Fischingen, famous for its beautifully restored 12th century Fischingen Abbey. Rather than taking the fast track, however, I decide to drive the rolling country roads amidst hilly farm scenery. The smell of wildflowers and drying hay wafts on clouds of warm sunshine through my car window, to be accentuated even more by bouts of cool mist when I pass through a cluster of woods dotting the landscape. Once again I discover the beauty of Züri Oberland (the countryside south-east of the city of Zürich), away from the beaten path, and worth every mile and minute!
After this pleasant drive, I stroll the elegant grounds and marvelously restored 12th century premises of Fischingen Abbey. I come across two of the nine Benedictine Monks who call this their worldly home. Always ready for a chat with visitors when working the extensive grounds in their simple garb, spinning the pottery wheel or enjoying a Pilgrim beer, they live their life according to the principle Ora et Labora. The life of prayer and labour also entails offering meals, spiritual support and overnight stays for the steady trickle of Jacob's Way pilgrims between March and October every year. On the secular side, Fischingen Society operates a the charming hotel, restaurant, meeting facilities and library with cultural events. Tours of abbey, church and Saint Idda shrine – which is considered a power spot –  are well worth taking and bring the rich history, architecture, artwork and music of the period uniquely alive.
Was it the monks of this abbey who first wrote down their knowledge of beer and the fermentation process at an earlier time? It's fitting that the only Swiss cloister brewery is located here on the Abbey's grounds, crafting specialty beers under the name Pilgrim.
The cloister is a popular winter and summer destination for hikers, bikers and snow shoers. The guest rooms are elegant in comfortable simplicity: honey coloured fir floors, modern furnishings with freshly cut meadow flowers, white washed walls decorated in patterns of graceful rococo reliefs. It was a sunny day as I sampled a delicious lunch in the outdoor restaurant of the cloister garden amidst proliferous dandelions. Protected by a green sun tarp, it was a lovely and peaceful place to enjoy the wonderful food and gracious hospitality.
The society also runs the abbey's carpentry. Newly appointed manager Andreas Stolz and his team skillfully renovated the abbey's baroque architecture. Florid and graceful lines, ornate and light colour styles, and curves of gold dominate throughout. The carpentry is sought after throughout Switzerland for their custom furniture crafting and renovation expertise. A new line of contemporary furniture in solid cherry or walnut combined with glass, stainless steel and color accents round out their product services.
Fischingen Abbey is well worth a visit with its many on-site offerings, the quaint little town, and the gorgeous surroundings. 
Please share your experience if you've visited Fischingen Abbey or are as thrilled as I was, driving through gorgeous Züri Oberand; – leave a comment below.