Grittibänz
&

Christmas cookies

November 13, 2017 — No comments
Grittibänz & Christmas cookies
Grittibänz (or Grättimaa) is the classic Advent bread in Switzerland. Loved by everyone, it is traditionally baked on December 6 for Saint Nicholas Day. The bread often has raisins inserted. The pipe may have to do with the Reformation, to make the originally Catholic bishop figure more secular. Try this recipe and share how you liked it:
Grittibänz 
Preparation
1
Mix flour and salt in a large bowl. Make a well in the center and add the prepared yeast as per package instructions. Mix lightly with the flour
2
Melt butter in a small pan & remove from the heat. To the butter, stir in one at a time the cold milk, cream and egg. Then add this to the flour and knead for ten minutes into a smooth dough. Important: even if you knead the dough with a machine, knead the dough for ten minutes!
3
Form a ball out of the dough, put in a bowl and cover with a clean kitchen towel. Let rise approx. 1 hour in a warm place.
4
Knead the dough once more for a short time. Divide into four portions. Form each piece into a longish oval. At the bottom in the middle of the oval make a cut with a sharp knife for the legs of the Grittibänz, and one on each side for the arms. Pull the arms a little bit longer and finish forming the legs. Form a ball for the head, resp. pull the dough behind the head. Decorate the Grittibänz with the remaining dough. You can give it hair, eyes, a mouth, a tie or bow, a belt, buttons etc. Press the raisin, almonds, hazelnuts etc. deeply into the dough or they'll fall off during baking.
5
With sufficient spacing between them, place the Grittibänz on a baking tray, covered with baking paper, and let rest for 20-30 minutes in a coolish place (not the fridge). They will retain their form better during the baking process.
6
Mix egg and milk and brush Grittibänz with it.
7
Bake Grittibänz in a preheated oven at 180 degrees Celsius on the second lowest level for approx. 30-40 minutes, depending on size.
Enjoy!
Swiss Christmas Cookies: Spitzbueben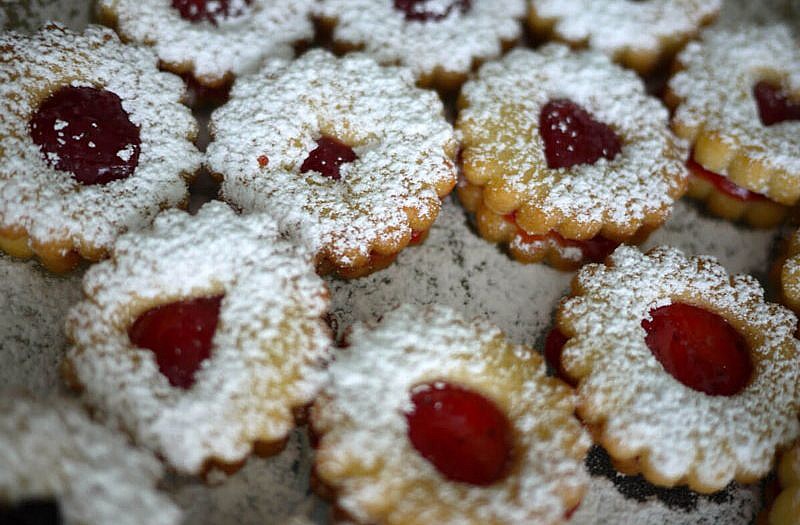 1
Combine room temperature butter, powder-  and vanilla sugar plus a pinch of salt in a bowl and beat with the hand mixer until soft and more bright. Add the fresh egg white and lightly mix in. Add the flour with a wooden spoon and make the dough slightly flat at the top. Cover and keep min. 2  hours in a cool spot (fridge).
2
Remove the dough approx. 30 minutes prior to further processing from the fridge.  Divide into smaller portions and roll dough with a rolling pin to 2 mm height on a surface dusted with flour or between the top and bottom sheets of a cut-open plastic food bag. Cut out round cookies of approx. 4 – 5 cm diameter. With a smaller diameter cutter, cut a hole or other shape into one-half of the round cookie bottoms. Put all cookies onto a baking-sheet covered cookie sheet and let sit in a cool place for 25 min.
Baking
Approx. 6 minutes on the middle rack of a 200 degree Celsius pre-heated oven. Remove and let cool on rack. Turn over bottom cookies.
Filling
Slightly warm (to touch) the jelly (red currant/quince) or jam of your choice (orange, raspberry, apricot), stir until smooth and spread onto the flat side of the cookie bottoms. Sprinkle cookie tops with powder sugar and carefully place on top.
Enjoy your little rascals!
Other traditional Swiss Christmas cookies
Other traditional Swiss Christmas cookies are Mailänderli, Chräbeli with aniseed, Basler Brunsli and Zimtsterne (both gluten free), Hazelnut fingers (can also be made gluten free) and Basler Leckerli, just to name a few. They are all delicious and you can find quite authentic recipes if you search on-line! Happy baking! 🙂
Share your Swiss Christmas baking experience here and leave a comment below. Thank you!