Vitra Design Campus: fun, funky, functional furniture
September 18, 2018 — No comments
Vitra Design Campus & Museum in Weil am Rhein is considered one of the world's leading museums for furniture design and lighting.
Besides many beautiful things, the museum offers changing exhibitions, guided tours and workshops. Those who fall in love with one of the objects they see can purchase them from the shop.
A Swiss travelling in the U.S.
On a trip through the United States in the fifties, Swiss Willi Fehlbaum discovered a revolutionary chair. It had been designed by what became the legendary design-duo Charles & Bernice Eames.
Willy was fascinated. On the spot, he decided to introduce and distribute the Eames' furniture in Europe. Even if it meant he had to become a furniture manufacturer himself. And thus Vitra was born.
Iconic chair designs
You may not recognize the Eames or some of the other designers who add to Vitra's product offerings today, but you will recognize many of the Vitra design furniture. There is a good chance that you are sitting on one of them right now!
Vitra Design Campus & Museum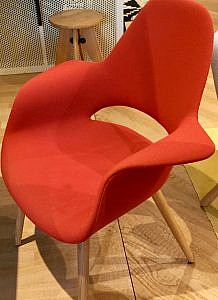 Since the fateful trip, Switzerland-based Fehlbaum family furniture manufacturing has grown into the Vitra Design Campus & Museum. The product line includes furniture & lighting products for homes, offices and public areas by many renowned designer.
Vitra Design Campus can easily be reached from Basel by car or public transportation.
A visit through the museum provides an eye-opening look at contemporary architecture, furniture & lighting designs, and makes for an ideal place of inspiration for anyone looking to newly design their living space.
Have you visited the Vitra Design Campus? Please share your experience and leave a comment here.