Zürich Gourmet Trams
November 23, 2017 — No comments
Zürich Gourmet Trams
Public streetcars in Zürich are much more than transportation.
Throughout the year and particularly during the Holiday season, you can choose from a variety of Zürich Gourmet Trams on oldtimer streetcars. During the Holidays, the city trams offer Fondue & Apéro rides for adults plus the beloved Märli tram for children. On specially designed routes, they take you through spectacularly lit Old-Town.
Zürich Märli Tram
The Fairy-Tale Christmas streetcar has been a magical and beloved experience for generations of children that now – grown up and parents themselves – bring their own little ones to enjoy this legendary Zürich tradition!
Driven by Saint Nicholaus and tended to by two Christmas Angels, the excited children are comfortably tucked into their seats. During the twenty-five minute ride through Zürich they are entertained with hot chocolate, sweet treats and Christmas stories. The magic and excitement reflects in their eyes. And – they're also observant! The angles have to field a lot of questions: "Why are you wearing sneakers?""Please fly for us – only once – dear angel!"

It's easy to make a little heart happy. Starting and returning to Bellevue square in Zürich, the Märli Tram runs daily from November through Christmas.
Fondue & Apéro Tram
Adults will enjoy the magic of the Fondue & Apéro Trams. The route is specially designed to pass along the most magnificently illuminated streets of Old Town Zürich: down Bahnhofstrasse, along the river Limmat with its beautiful old Guild Houses to Bellevue square.
The three-course traditionally prepared Swiss fondue dinner takes two hours, the Apéro tram with cold cuts and choice Swiss wines 75 minutes. Both are fun and generate stimulating conversations with your table companions for the evening.
These trams run from early November through end of February, when the special events schedule changes over to the Sushi, Ticinese and other specialty gourmet trams for the rest of the year. (If you read German, you will delight in the creative ad in a past year, advertising the Fondue tram. See sidebar.)
Zürich Gourmet Trams are a fun way to experience this beautiful city, during the Holidays and at any time of the year!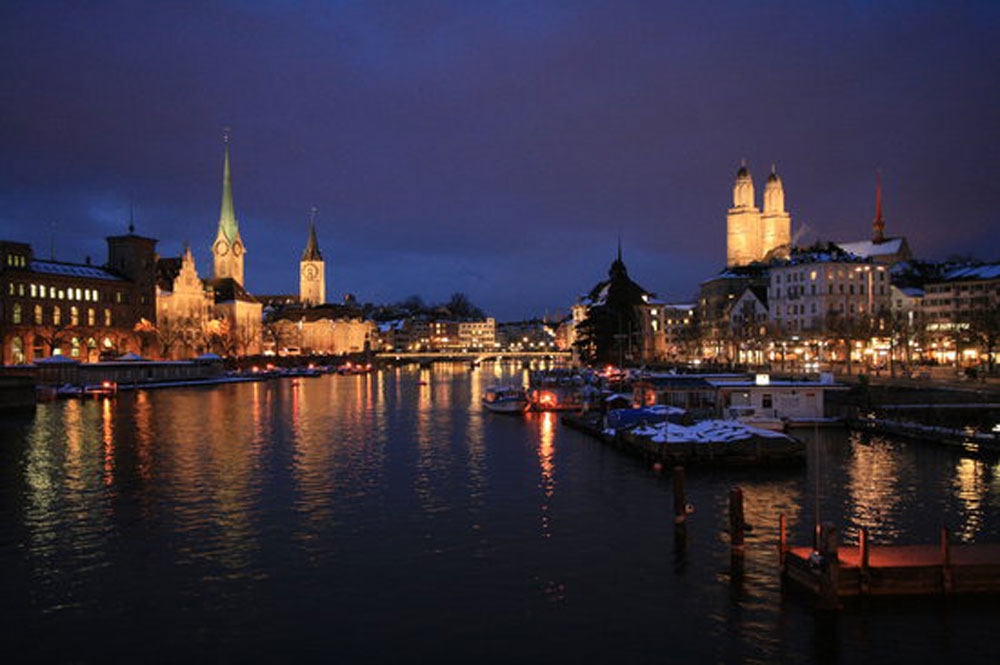 If you've travelled to the city and taken one of Zürich Gourmet Trams you can leave a comment below.