Fretz Men: top quality Swiss-made footwear
June 24, 2017 — No comments
Daniel Omlin, CEO and Managing Director of Fretz Men AG, personally takes the time to show me through the two production-line facility. Punctually at 11 am we meet at the office and start the one-hour tour through the factory before the staff break for lunch. The large hall is brightly lit by natural light and spotlessly clean. My iPhone easily records our conversation as we walk among the workers running the equipment, and I am astounded by the many hand-crafted steps required in this shoe assembly!
Tour through the production facility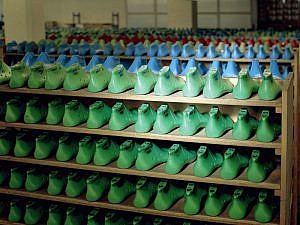 Components like the upper, insole and sole are joined around what's called the 'last', an individually shaped solid form simulating a foot – similarly to how a garment-pattern would map a dress – except this is three dimensional. The brightly green or blue coloured lasts are the core of shoe manufacture. They must incorporate every variation of customers' anatomical feet measurements through European size 39 through 50 while at the same time observing the latest fashion trends. The important first 'lasting and making' process is followed by dozens further assembly steps which involve both machine and manual skills using heat, humidity and cooling processes during which the shoe receives its final form.
Gore-Tex® Surround™ Technology
Seventy-five employees work in the Swiss family business that dates back to 1903 when Hans Fretz founded the company. Design and development are done in-house for the yearly spring/summer and fall/winter collections, starting approximately 18 months prior to the finished product reaching the store shelves.
Most of Fretz Men shoes are made from natural materials – leathers sourced in Europe and cut out in India, where the company installed their own staff supervising this first part of the manufacturing process twenty years ago. Says Daniel Omlin: "The only way to ensure that the ecologically produced leathers are to our high Swiss quality standard is to guarantee the know-how transfer and to have competent people on both sides."
Fretz Men is a pioneer in having successfully combined the highly breathable yet waterproof Gore-Tex® membrane features in the body of the shoe with the Gore-Tex® technology for autumn/winter and Gore-Tex® Surround™ technology in the sole, thus offering 360 degrees climate control for spring and summer.  
Available in Switzerland through all the well-known retail stores as well as on-line retailers, Fretz Mens' shoes are also available in Austria, Germany, the Scandinavian countries and in a few additional markets as far as Russia and Taiwan. In over one hundred years Fretz has built a solid reputation in top quality, fashionable mens' shoes and after this impressive tour I will never look at shoes in the same way again. I only wished there was something for me in the Fretz Men product line!
Do you already wear Fretz shoes? Share your experience and leave a comment below.