Unspunnen festival
September 7, 2017 — 5 comments
Tradition and culture are well and alive in Switzerland! The traditional Unspunnen festival, celebrated every six years, proved this once again when it was held in Interlaken this summer, 2017. Traditional sports like Swiss-style wrestling, stone throwing, Hornussen, yodelling and more were demonstrated during the competition and festival week.
Origins of Unspunnen festival
The first Unspunnen festival took place in Interlaken in 1805 in response to Napoleon's abolishment of freedom between the hitherto autonomous city of Bern and the also independent Bernese rural areas.
The new constitution not only abolished freedom of trade, but also freedom of religion and press, and the equality of rights. This resulted in political unrest between the two regions since the rural area suffered the greatest loss of freedom as the political weight shifted to the urban population.
Rather than let it come to violence, four citizens of the city of Bern with good contacts to the Bernese Oberland organized a joint folk festival comprising a parade and competitions in singing, shooting, wrestling, boulder throwing and Alpine horn playing – the Unspunnen – in the hopes to mitigate tension. This worked until 1814, when it came to upheavals in the Bernese Oberland after all. However, to this day, the Unspunnen festival  is held every six years in Interlaken.
Celebrities of the time such as Madame Germaine de Staël and other writers and journalists throughout the century wrote about the Unspunnen festival which in effected started tourism in the Bernese Oberland. Today, it is well established as an folklore gathering par excellence in Switzerland and attended by visitors from around the world.
The Unspunnen stone & its mysterious disappearnance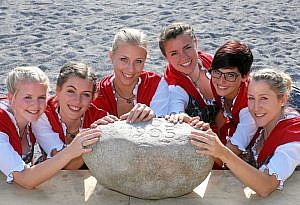 In 1805, the original Unspunnen stone for the stone-throwing competition weighed 92 kilograms. It vanished at the very first competition and a new stone was made in 1808, weighing 83.5 kilograms. The stolen was stolen again from the Tourism Museum Interlaken in 1984, but then delivered mysteriously in 2000 adorned with twelve European stars. Since it had become two kilograms lighter, it could no longer be used in the competition.
A new stone in the initial weight was made and chained to and displayed in the hotel lobby of the Victoria-Jungfrau Hotel, from where it was stolen once again in the year 2005! It remains missing and today, and a replacement stone in the identical form, size and weight like the 1986 stone is used in the competition, kept under lock and key between festivals. An appeal for the return of the stone of 1808 or even the one from 1805 is made in Switzerland every year.
Unspunnen festival 2017
Enjoy the pictures of this year's Unspunnen festival with its many traditional sports, music, dance, folk dress and many other traditions of Switzerland, and mark your calendar for a visit to Interlaken in 2023 for the next Unspunnen festival!