Koller International Auctions Zürich and Geneva
January 28, 2017 — No comments
The atmosphere is one of understated excitement. Staff is dressed in discrete black, not to distract from the masterpieces, with art world-trademark white gloves to avoid prints. Chairs for the guests are functional, occupied by clientèle of all walks of life. Fresh water is available self-serve in the lobby.
It's the Swiss Art auction in process at Koller International Auctions in Zürich, and only one day of auction of an entire week-long series that includes jewellery & watches, 20th century decorative, asian art and more. Founded in 1958, Swiss family Koller continues to own and operate the business. Koller Auction has acquired a name as one of the most important for old masters, 19th century, impressionist, and modern art and is among the top auction houses in Europe.
Today's offerings include works by famous Swiss painters such as Cuno Amiet, Varlin, Ferdinand Hodler, Félix Valloton, the brothers Giacometti and of course Albert Anker. Anker is expected to hold the pole position with an oil painting depicting an endearing moment-in-time of a grandmother working at her spinning wheel next to her grandson who is sleeping on a warm bench. Switzerland's "national painter" is as beloved and popular today as he was during his life-time.
One-hundred-and-nine pieces of Swiss art are on the lot, and many beautiful paintings are auctioned off either to buyers in the room or to clients on the phone. Finally, the tranquil Anker oil on canvas is presented as lot 3032. A large painting, it is signed and dated Anker 1883.
Elsewhere in the world, the Orient Express begins train service between Paris and Constantinople; the modern bicycle is invented; the Brooklyn Bridge opens the world's largest suspension bridge after 13 years of construction. And five years into the future – in 1888 – George Eastman brings to market what becomes an instant mass success: the Kodak No. 1 Box Camera.
Yet Swiss painter Albert Anker (1831 – 1910) goes on to document the life and work of villagers in Switzerland, masterfully captivating the essence one-moment-at-a-time. Allowing us an intimate look, unpretentious but in minute accuracy, just as in this masterwork: the sleeping boy's shoes have dropped to the wooden floor, blissfully asleep on the warm oven bench. The rhythmical sound of the pendulum keeps time, echoed by the movement of grandmother's foot keeping the spinning wheel whirling. We can almost feel the heat radiating from the oven and hear the boy's regular breathing. Anker masterfully paints a calm, peaceful atmosphere with meditative quality that spills over to the onlooker.
The original painting  is held up next to the auctioneer and simultaneously displayed on a large overhead screen. Bids are signalled by hand and not the slightest movement escapes the attention of the auctioneer, Cyrill Koller, Managing Director of Koller Auctions. The hammer eventually falls and ownership of the Anker has changed hands at CHF 1 Million.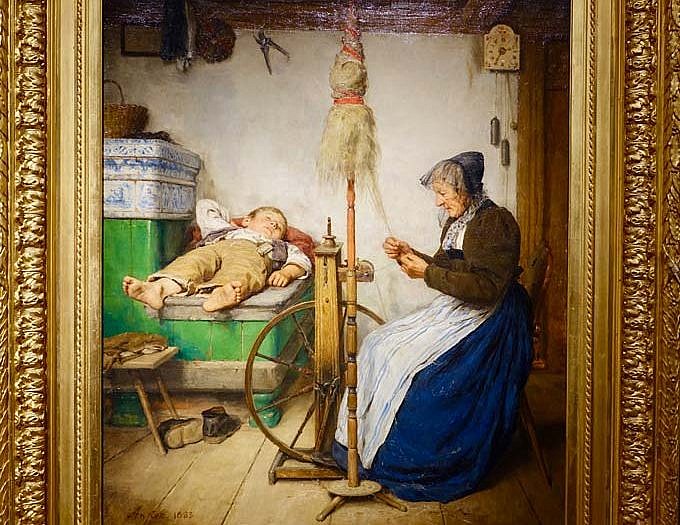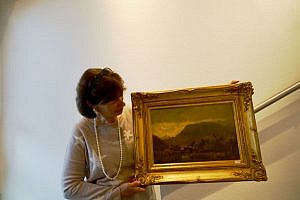 As I'm sitting there in the midst of all the action, a delightful little landscape painting is offered, depicting a crystal clear Brienzersee with two washing women in action on the shore. There is only one lukewarm bidder, just up from the initial asking price, and the auctioneer is just about to drop his hammer as I raise my arm, almost by reflex. Without any challenge to my one bid, the hammer does fall on the third count and lo and behold, I just became the proud new owner of a Swiss painting! I'm a little giddy, not really quite sure how that happened. My neighbour spontaneously turns to me and beams "well done!" which helps to reassure me that I did the right thing… 🙂
I must say, I do enjoy the glimpse on my wall into my Swiss forbearers'  laundry activity, and who knows, I might attend another auction! Will I see you there?
If you're game to try: with offices in London, Munich, Dusseldorf, Milan, Hamburg, Bejing, Moscow and New York, Koller holds over thirty auctions in Switzerland, four times a year. To check the schedule, go to  https://www.kollerauktionen.ch. Good success!
I find auctions intriguing and have been to three so far in three different countries. With the other two, I successfully withstood the urge to participate in bidding! How about you? Please leave a comment below.