Restaurant zum Kropf – hearty Zürich cuisine in 16th century ambiance
July 27, 2017 — No comments
Restaurant zum Kropf
A narrow laneway connects famous Bahnhofstrasse in Zürich from Paradeplatz square to the Old Town on the river Limmat. Strolling down the cobblestone alley called In Gassen (in the alley), you might easily miss the modest entrance to number 16. That would be a grave mistake as it is the entrance to the local hotspot  Restaurant zum Kropf. As soon as you step through the door you realize you're in for something special.
The history dates back to the Middle Ages; the menu 120 years!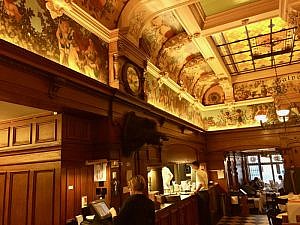 Restaurant zum Kropf is known by the locals far and wide for its sophisticated atmosphere. It radiates warmth and cosiness and just wraps itself around you. Bankers and business people, mothers-and-daughters, girlfriends and a handful of tourists are creating a lively atmosphere in the long rectangular restaurant, which is cleverly separated into three different rooms. Wood panelling and gorgeous baroque paintings grace ceilings and walls, complemented by antique brass lamps. The waiter is efficient and very courteous, dressed in the classic French white shirt and black apron. He clearly knows his business and he has to. Every table is occupied for lunch and the manager, dressed in a beautiful grey needle suit, slim and attentive, circulates from table to table, greeting the guests, not missing a beat and giving a hand wherever needed.
Traditional dishes
Guests can choose from a wide range of dishes that have been established over the course of the last 120 years. In addition to the 'usual' salad and soup appetizers as well as meat and fish dishes, Zürich classics such as Veal Zurichoise with Rösti, traditional Boiled Beef or any of the delicious Swiss sausages are served. I won't bore you with the vegetable dish that I ordered but will tell you it arrived impeccably (eight different freshly cooked vegetables) – but here is photo of the guest to my right's home-made hazelnut parfait! He says to let you know it tastes delicious! 🙂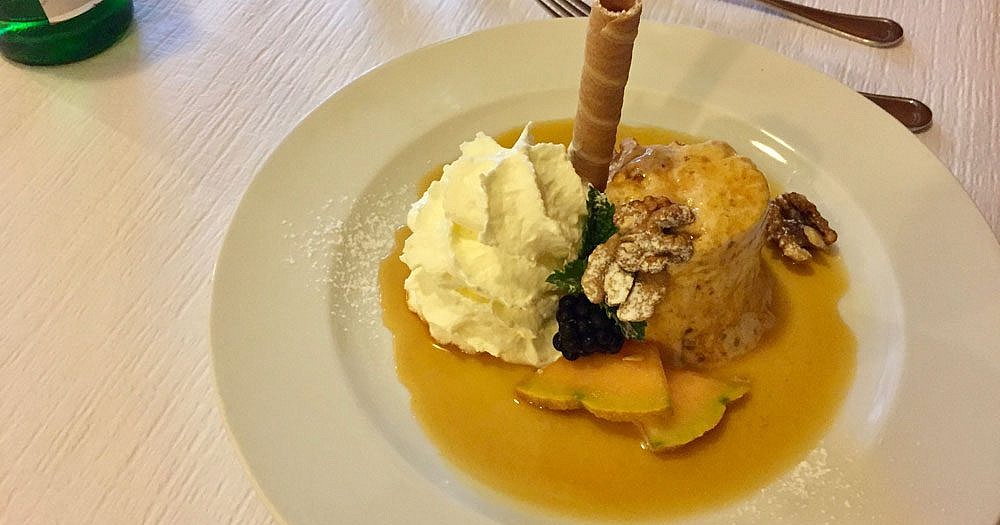 Be sure to include Restaurant zum Kropf in your schedule next time you're in Zürich. It even has a quiet, lovely terrasse out the back. I'm sure you will enjoy lunch or dinner at the Kropf where the locals eat in down-town Zürich.
Share your experience if you've eaten at the Restaurant zum Kropf and leave a comment below.