Brunni-Bahnen Engelberg – unbound nature experience
August 5, 2018 — No comments
Brunni-Bahnen Engelberg – unbound nature
Mountain hiking & biking, rock climbing, barefoot trails & herb walks, paragliding, summer tobogganing & winter sledging, skiing and snowshoeing – Brunni-Bahnen Engelberg is your year-round outdoor paradise for all ages on the sunny slopes of Engelberg valley!
Open air chair-lift
The first closed-car cable ride takes you to the mid-station.
The next ride to the top of Brunni's alpine world is an open-air, maximum three-person chair lift. This experience alone makes it worth the trip!
Light wind rustles your hair, the sun warms your back and your nostrils are filled with the fragrant scent of alpine flowers intermingled with freshly cut hay.
Comfortably scooped up from the platform, the chairlift delivers you steadily toward the mountain top.
Rising ever higher, the entire valley spreads out below your feet while the steel blue sky beckons you to climb higher yet into a mesmerizing, sun-drenched mountain panorama. The happy jingling of bells worn by milk cows grazing on the juicy meadows below accompanies your journey.
A first hand (and full body) immersion into the Alps, in Switzerland everybody uses the chairlift: adults, children, babies in mothers' arms and even the family dog!
Engelberg valley attraction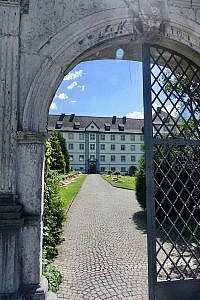 At the foot of Brunni-Bahnen Engelberg in the charming village of Engelberg, explore the beautiful grounds & architecture of the Benedictine Monastery, an Abbey dating back to the year 1120.
The grounds of the living monastery are open to the public and visits to the Abbey's own bakery, flower shop and carpentry are encouraged.
Refresh yourself on home-baked goods and wine in the restaurant which also demonstrates how cheese is made. The monastery offers overnight accommodation and participation in every-day monastic life, as most abbeys offer in Switzerland.
Brunni-Bahnen Engelberg is a short 45 minute drive from the city of Lucerne; well worth the full day excursion or longer stay to experience the glorious Alpine world that has much to offer all ages year-round!
Do you have fond memories of the beautiful Engelberg valley and it's mountains? Share your experience and leave a comment below!