St. Nicholas arrival – Samichlaus Auszug
December 6, 2017 — 2 comments
St. Nicholas arrival – Samichlaus Auszug
Beromünster is a small, lovely community in the canton of Lucerne, with a rich history dating back to the year 1223.
Samichlaus Day is celebrated December 6 throughout Switzerland, but on the first day of Advent, many municipalities in the central cantons celebrate what's called Samichlausauszug – the arrival of St. Nicholas. With his impressive entourage and always accompanied by his donkey, Samichlaus walks through the lined streets, making little hearts beat faster.
Tradition has it that Samichlaus is accompanied by Trychler and Scheller (cow & other bell bearers), Chlöpfer (expert bull-whip bearers) and servants. In many communities it has been the custom for one-hundred or more years that Samichlaus hands out Christmas cakes, nuts, clementines and other treats.
In the community of Beromünster, the children form a parade, welcome Samichlaus and then follow him with their home-made lanterns through the community.
On the town square, in front of the old church, everyone comes to a halt. The children sing songs to St. Nicholas who thanks them most graciously and inspires them for the year to come.
The breath was made visible in this cold, dark night, but this age-old  custom of St. Nicholas Arrival – Samichlaus Auszug, in which the entire community participates, the glowing faces and the bright lanterns had a way of warming everyone's heart and soul!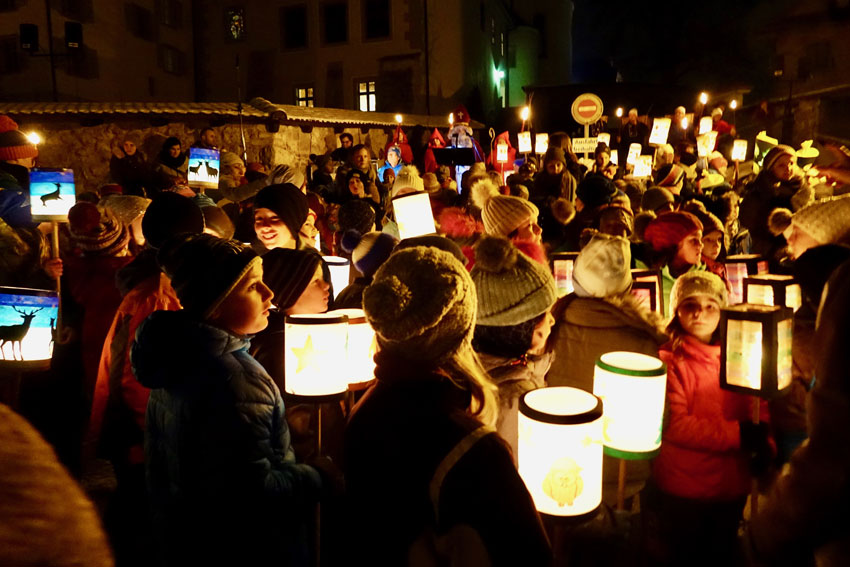 Do you know this special tradition or a variation thereof in Switzerland?  Please leave a comment below if you wish to share your personal memories.