Paradiesli vacation chalet owned by an exceptional jodeler
August 8, 2017 — No comments
Shortly after leaving the city of Lucerne along the southern lakeshore I enter Sarnen valley with its glittering, emerald-green lake. The valley widens into wildflower meadows that gently climb in hilly ondulations to the Pilatus massif on one side and the Stanserhorn on the other.
Quaint villages with traditional houses around cobblestone squares dot the landscape. Every sun-burnt, wooden chalet bursts an array of colorful flowers from window boxes or front garden. The freshly washed laundry merrily flutters in the wind and the white washed little chapel on the highest hill holds court over all the valley at its feet.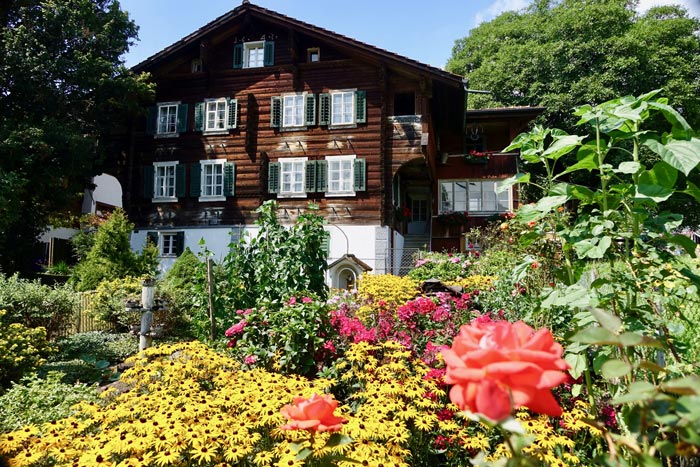 Paradiesli vacation chalet
This is the setting of Paradiesli vacation chalet at the end of a narrow country lane above the village of Kerns. Spectacular views over the length of the valley with sun rise and sun set at either end or a fast moving thunderstorm unleashing its power in fury, eventually petering out and leaving behind an energized, fresh smelling world.
You may fall in love with this simple yet super cozy chalet: sun-flooded rooms with oversized windows into pristine nature, a superb viewing terrasse, open space sitting/dining room/kitchen with a charming fireplace; two bedrooms that guarantee peaceful sleep. Paradiesli vacation chalet is aptly named and I would add bliss to it. But there is more!
Eva Mettler, chalet owner & exceptional yodler
Eva happened to be holidaying on the lower floor when I moved in. We became fast friends and Eva knocked me off my socks when we went swimming together in lake Sarnen  and she started to yodel in the middle of the lake! Eva is an exceptional yodler and the reverberation from the valley was stunning! Being yodeled to in the midst of this silken-warm body of water, surrounded by an exceptional landscape, topped off with a steel blue sky is an experience I won't forget anytime soon!

Yodelling is Eva's passion since she's been a little girl. One of Switzerland's foremost yodel singers, composers and teachers – Marie-Therese von Gunten – heard Eva sing & recognized her talent. In Eva's words: "Marie-Therese has helped polish the diamond within me."
St. Wendelin's Chapel- the perfect place to yodel
Yodelling in special places while accompanying herself on the accordion is regular fare: "No chapel or church in the area is safe from me as the acoustics are tops," laughs Eva. The yodeler is frequently asked to perform but prefers to teach yodeling and conduct open space courses in local communities.
If you're so fortunate as to meet Eva when you rent her Paradiesli vacation chalet, please say hello from me – and who knows what might happen!
I'm tempted to suggest that you plan a stop at Eva's Paradiesli next time you're traveling in Switzerland. I'm confident you will leave a comment below when you do!