100th birthday of Ruedi Walter, Swiss radio, TV and film star
December 10, 2016 — No comments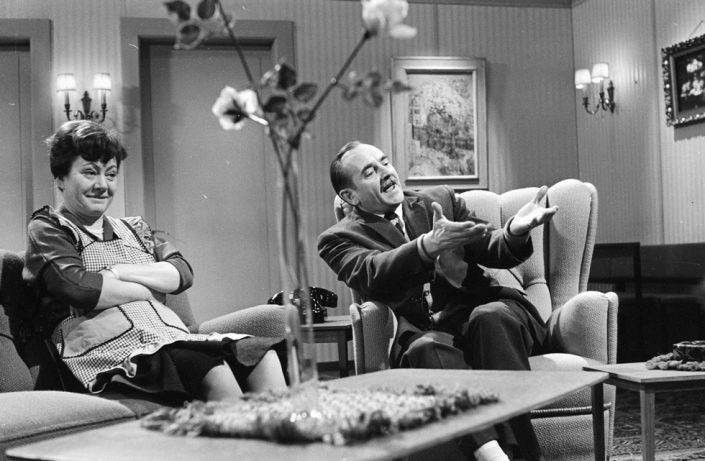 Photo courtesy SRF. Copyright SRF.
In his ineffable voice and Basler dialect, Ruedi Walter was one of the most beloved actors and cabaretists of his time in Switzerland. As of 1955 the popular star, often in tandem with acting partner Margrit Rainer, remained a highlight in the Swiss show scene for many years. The above picture of the radio show Spaläberg 77a (Bis Ehrsams zem schwarze Kaffi), aired every third Saturday afternoon and was one of the early successes not only for the duo, but Swiss radio history. Eleven years running with over 100 shows and a record number of listeners, the show remains unbeaten in popularity. Listeners bought into the regular radio plays so much so that many believed the actors were a real married couple and went in search of the fictitious address!
Later on, the radio show was made into a short series of black-and-white movies. These were financially supported by laundry detergent manufacturer "Walz & Eschle AG" in Basel. If you watch the video clip in the sidebar of this article, you will see Margrit Rainer, alias Luise Ehrsam, promoting Serf washing powder. In essence, the series was an entertaining TV commercial! You won't find Serf on today's store shelves though. Despite the radio show's success, Walz & Eschle AG existed only between 1813 and 1960.
Photos courtesy SRF. Copyright SRF.
Music and acting were in his blood. At age 18, completing his baccalaureate, Ruedi Walter, together with friend Adolf Bauer, composed music and text for a public show at the city casino in Basel, but opted for a career in business. This was cut short at the outbreak of WWII when he returned from his work for Twinings Tea in London. In Basel, during his military service, Ruedi Walter acted on stage for the first time. After the war, he decided to go pro and joined Cabaret Cornichon, where he met Margrit Rainer and one of the most enduring acting partnerships was formed. For thirty years, the duo played many roles together, first on the radio, then on stage and TV until Margrit Rainer's surprise death in 1982. Ruedi Walter was thrown off kilter and could not see himself continuing acting alone. Gradually, he returned to the stage – his favorite medium – and also took on roles in a number of film and tv movies. He even participated at the Swiss national Circus Knie. Becoming increasingly sight impaired, he continued to act until his death June 16, 1990, when he passed away during knee surgery.
Ruedi Walter played roles from drama to comedy and everything in-between. In an interview shortly before his death, he spoke about how proud he was to be called an 'actor of the people' (Volksschauspieler). The list is long and you may remember some of his unforgettable appearances in: Die kleine Niederdorfoper (1951 & 1978), Polizischt Wäckerli (1955), Spalebärg 77a (1957), Demokrat Läppli (1961), Die sechs Kummerbuben (1968), Pfarrer Iseli (1969), Ein Fall für Männdli (1973), Der Schwarze Hecht (1981), and many more.
Thank you, Ruedi Walter – and Margrit Rainer – for so many enjoyable moments and memories of a Switzerland gone by! Streets perpendicular to each other and only separated by a park have been named in honor of both artists in the city of Zurich.
What are your memories of the famous acting duo? Do you have a favorite play of Ruedi Walter and Margrit Rainer? I remember seeing them play together at the Bernhard Theater in Zürich, always coming out of the theatre elated and laughing! Isn't that the best experience? Share yours about this unique and quintessential Swiss acting duo and leave a comment here.