Sent, Ftan, Guarda
&

Schellen-Ursli

March 17, 2019 — 2 comments
Sent – Ftan – Guarda – 3 Engadina villages
Sent – Ftan – Guarda: three picturesque villages in the lower Engadina, located in close vicinity high up on an extended sunny terrasse above the river Inn. Hearty, welcoming locals and their characteristic, thick-walled stone houses, adorned with artistic graffiti and wooden doors, are sure to charm you. A unique and special region, well worth visiting!
Sent
The skilled sugar bakers of Sent emmigrated with their craft out of necessity as far as Florence/Italy. When they returned wealthy, they built palazzi in the Italian style in this 1,450 m altitude alpine town. Yet traditional Engadina culture is well evident and maintained in customs, language, food and architecture, and the scenery is stunning!
Ftan
Another village up high and in glorious full sun exposure, it's difficult to picture abundant grain growing in this hilly country, yet Ftan boasts a 400 year old mill. It's also the stunning location of The High Alpine Institute Ftan, a world-renowned international boarding high school. Founded in 1793 for the youth of the Engadina, its approach was based on elightened Swiss pedagogue and educational reformer Johann Heinrich Pestalozzi.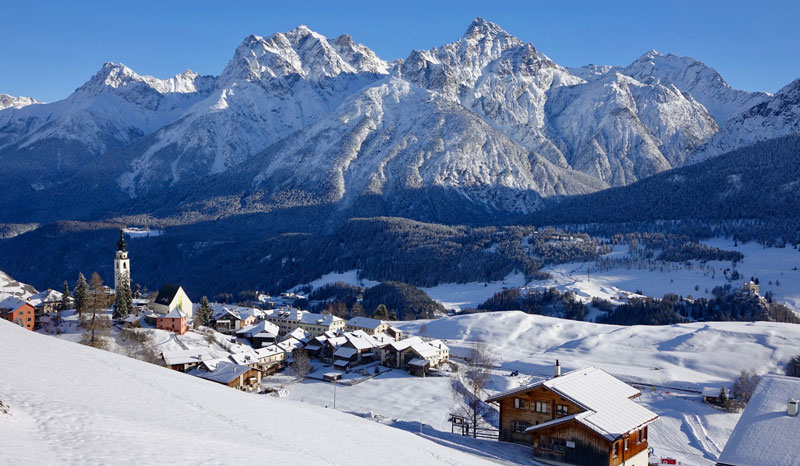 Guarda
Guarda's population is fiercely proud of its town's beauty and takes great care to renovate buildings authentically. The children's story Schellen Ursli was inspired here. Guarda's writer Selina Chöntz wrote the text in 1945 and convinced famous Swiss painter Alois Carigiet to illustrate it. Alois chose house number 51 as Schellen-Ursli's family home. Its heavy larch-wood door is probably one of the best known in Switzerland. The book became an instant success and continues to inspire generations of new parents to read the proud and independent story of Ursli in 16 languages to offspring around the globe.
Chalandamarz is an old custom in which winter is gleefully driven away with cow bells in this part of Engadina.  (Photo below: Graubünden Tourism).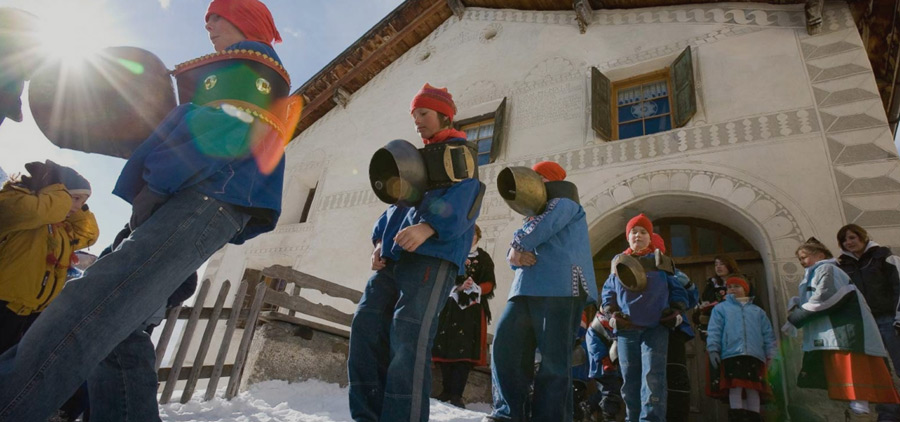 Are you one of those parents that read Schellen-Ursli to your child? Did you grow up with Carigiet's childrens books yourself? Leave a comment below. Thank you!