Bauer Fritz – Idyllic farm B&B near Luzern
May 31, 2017 — 2 comments
The views alone are balm to the soul
High above Surental valley and lake Sempach on a gorgeous plateau with breathtaking views for miles in every direction lies Bauer Fritz' family farm. Here, at the end of a country road, Fritz and Janine Neuenschwander run an organic farm in the fourth generation. The original farmhouse dates back to 1842. It has been updated to the highest standards with solar, wind and geothermal technology running the technical side, while very comfortable and cozy guest quarters have been integrated into the working farm.
Apartments and rooms and even a charming Stöckli can be rented (a term normally meaning the new home on site for the retiring farmers, the parents who pass on the farm to their son and his wife).
The breakfast buffet is second to none. A rich variety of freshly baked organic breads including from home-grown spelt flour, jams, honey, cold-cuts, cheeses, eggs, fruit, yoghurt and more, all directly from the farm. Janine and Fritz thoroughly enjoy interfacing with their guests and are very interesting people to talk to! They're also a great resource for the many well and lesser known activities this central Switzerland region offers as their farm lies in immediate vicinity of the city of Luzern, Pilatus and Rigi mountains, Lake Lucerne und much more. In the immediate surrounding, the lovely towns of Beromünster with its majestic Stiftskirche St. Michael (collegiate church) and Beromünster Radioweg as well as the community of Sempach are worth exploring.
I rented the Birken apartment in the main farmhouse. The view that met me every morning when I opened the green wooden shutters was nothing short of stunning! An infusion of beauty and tranquility with awe-inspiring views down the valley, across the lake and up into the snow-capped Bernese Alps – the day couldn't have started any better!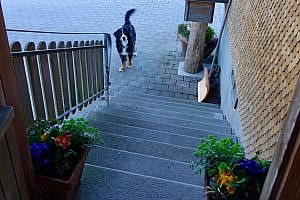 George, the bouncy Bernese mountain dog eagerly awaited my descent and companioned me faithfully to the breakfast room that I chose to undertake via a short few steps around the house. Rather than walking indoors, this gave me an opportunity to bid good morning to the resident cats, geese, donkeys and if the highland cattle were grazing nearby, them too.
There are a number of lovely hiking paths starting right at the farm which take you through the woods and afford more great views down the other side of the hill. Tipis can also be rented, and farmer Fritz runs horse-drawn wagon rides past his ripening sunflower fields in summer. Kids of all ages love to spend a night in the deliciously smelling hay and Janine even offers a wedding night package in the fresh hay!
If you're looking for a relaxing stay on a Swiss working farm with a family that lives in sink with nature and truly cares about their guests' welfare, you will find the farm holidays with Bauer Fritz a very special and rejuvenating experience!
If you decide to stay with Fritz and Janine, be sure to say hello to them from me! I'd be interested in your experience which you can leave in a comment below.