Aecherli Pass: Sennen hospitality
&

wild haying

August 4, 2017 — 2 comments
Lucky car breakdown on remote Aecherli Pass, Canton Obwalden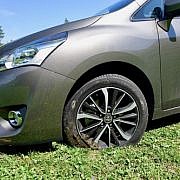 Just as I reach the top of Aecherli Pass (elev.1,395 m), I hear a loud pop, followed by a sharp hiss. Yep, the air of my left front tire is evaporating fast and the rubber is hugging the rim!
Here I am in this glorious rugged landscape, the mountain tops of Pilatus, Rigi and Stanserhorn all around me, reaching into the steel blue sky. Miles from the village Sand, long past the last farm where the narrow, winding road started to lead me higher and higher with inclines of up to 15 per cent on one of the hottest summer days in central Switzerland! What am I to do?
My plan had been to drive as close as possible to the lone white chapel, built like a beacon into the mountain top. It fascinated me from the moment I spotted it from Sand: for what reason and who built it?
My time as a member of the FHD (women's service corps) in the Swiss army eons ago comes flashing back to me. Serving as an ambulance driver, we  drilled and timed changing tires and pulling up chains. Forty-five seconds was the goal. Not in 45 seconds but most likely I'd remember how to, but alas, there is no spare tire! 
Cell phone works, however,  (how could it not on this mountain pass) and the friendly Swiss Touring Club operator assures me cheerfully: "No problem, of course we service your location. We'll send someone up." Bless the Swiss' full acceptance of their landscape in every aspect!
Taken in by the Alp Senn (alpine farmer)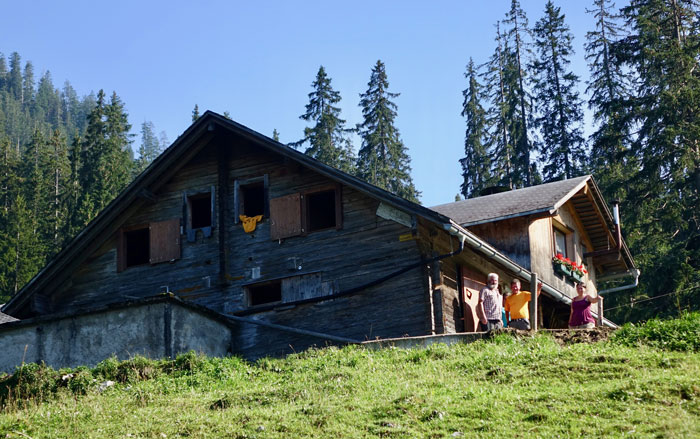 I remember having passed what looked like an alp hut not far behind. I trek up the hill and I'm already expected. Senn Alois Rossacher and extended family Josef, Berta and Martina have observed my plight through their binoculars. They invite me to join them to wait for the tow truck. During the next three hours I get to know these wonderful, hospitable people and half a dozen grand children – happily engaged with nature play about the alp – and I learn much about the working life of a Senn, while I'm quizzed about my life in Canada.
Eichhof Radler beer with lemon flavour (really delicious!) in the surly nearly 40 degrees C heat I gratefully accept, followed by home-made cheese; paper thin, very flavourful bacon, gherkins and bread, accompanied by the regional specialty Cheli: light coffee, no cream but heavy on pear Schnapps. It goes really well with the cheese! I do turn down the home-made Enzian liquor, however, made from the root of gentian, mostly because I was cautious enough the smell it first and that nearly knocked me over!
Daily life on a Swiss Alp
Alois' dairy farm in the valley is run by his son while his father minds the Aecherli Pass Alp for exactly 100 days. We can hear the bells of his 17 cows in the distance. The children between ages four and twelve love helping their grandfather collect the cows morning and night for the milking. The Senn takes the milk to the valley daily and sells it to the Co-operatiev for 56 Rappen (cents) the litre which sells for Fr. 1.65 in stores. Six cows produce roughly 130 litres of milk.  
The alp is owned by the regional farmer's cooperative and there are sufficient alps in this hilly country to lease to about half of the 123 member-farmers. Allocated by drawing lots on a twelve-year rotational basis, the land dictates how much livestock can be brought up. Additional fodder beyond what the alp can produce is strictly prohibited. Alps that don't have road access produce cheese only.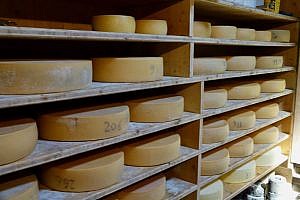 Alois also produces Raclette cheese in the spotless copper kettle, hand-crafted in the neighbouring Entlebuch valley. The kettle takes 240 litres of milk which results in 10% of cheese by weight. He developed his own recipe, bathing the rind in apple juice and leaving in all the fat which makes the cheese very smooth and runny. Customers love it! Of course I have to get a small wheel.
Wild haying on an alpine meadow of about 40+% (!) incline
Alois draws my attention to the haying in-process on the opposite valley meadow, right beneath the mountain top. Through the binoculars I can clearly make out seven people raking hay in a three acre field. I hold my breath as I realize how steep this alpine slope is and Alois estimates the incline being close to an unbelievable 45%!

Tourists from around the globe travel up mount Pilatus and are awed by the same incline in the world-famous cog wheel trains and here alpine farmers stand on this very same steep incline, packing hay in 40 kilogram bundled nets, then sliding them down the mountain into the valley below! Depending on whether the hay contains wild flowers, half an acre's worth of hay can net up to Fr. 1,600. Dangerous and hard work and every year, the practice claims farmers lives. Loosing balance on the slope there is no rescuing. I will see Swiss alpine hay, milk and cheese in a very different light from now on!
I ask about the Alp Segen (blessing) and Alois tells me that at the beginning of the season, the pastor comes up to each Senn and Alp individually to dispense a blessing to the Senn,his home, the Alp, livestock and harvest. It's a tradition going back centuries, as is this lifestyle.
The practice of Alp Auf- and Abzug was regretfully abandoned some years ago in this region as most farmers are unable to provide the legally required number of men to walk with the cows (five men : 20 cows).
By the time I have to bid these wonderful mountains folks good-bye we are fast friends. Now I have two reasons to return to unspoilt, authentic mountain farming Aecherli Pass: to complete my journey to the still beckoning little chapel and to meet and drink Cheli with my new friends once again.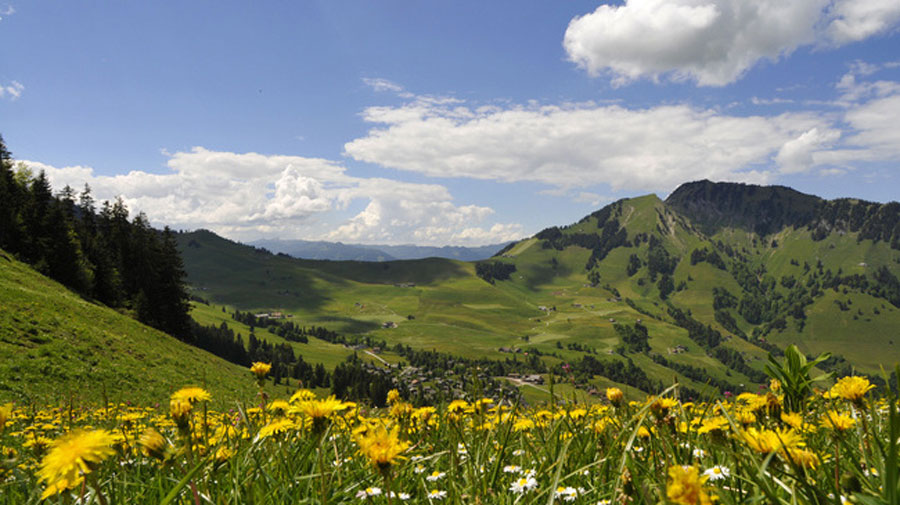 Above photo: Obwalden Tourism
If you don't know it already, I highly recommend a visit to this gorgeous, unspoilt alpine landscape with its friendly people. I have no doubt that you will wish to leave a comment of your experience when you do.