Justistal Chästeilet
September 30, 2017 — 4 comments
Life on the Alp
Around the end of May, the farmers walk their 250 cows onto nine different Alps in the 1,400 meter elevation Justistal valley. Here the cows and sheep graze freely for 100 days.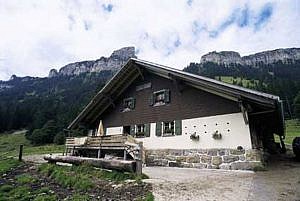 Kleiner Mittelberg Alp is the highest located Alp at 1,430 meters elevation. The milk is daily transported by cable car to a lower elevation hut where the milk from the Alp's twenty-five cows are crafted into the summer's total of 3,500 kilograms of cheese.
Justistal Chästeilet 
The cheese wheels from all nine Alps are collected in wooden store houses on Spycherberg. On the last day of Alp summer, they are brought into the open for the cheese wheel distribution to each farmer. A tradition tracing its origin to the year 1739, probably even earlier, and unique to the European Alp region.
In a human chain, every farmer gives a hand in arranging neat piles of cheese with an even mix of weights and ripening stages. The distribution method is very exact according to strictly kept milk production records of every cow throughout the summer.
Swiss measurements of old called Saum (1 Saum = 200 liters milk) and Los (4 Saum = 1 Los) are used to pile up eight wheels in each  stack.
Around 11 am, when the first sun rays reach from behind the mountains and suddenly flood the valley with a brilliant light, the lead farmer begins the calling out of the cheese, the Justistal Chästeilet.
Alpabzug (Cattle drive)
Do you know the difference between Alp cheese and Mountain cheese (between Alpkäse and Bergkäse)? Justistal farmers craft Bernese Alp cheese which has been proven to contain more Omega 3 fatty acids than Mountain cheese.
Traditionally, cheese wheels do not get cut up, so farmers negotiate part-ownership on a full wheel in monetary terms with one-another.
After a farmer's valley pic-nic of Justistal cheese, cured meats, crusty bread, fruit, nuts and plenty of wine, the farmers walk with their flower- and bell-bedecked animals down into the valley and home into the barns.
The paper flower decorations are hand-made with pride by the farmer's wife and the number of them on a belt or head decoration indicates the milk productivity of each animal.
A full Alpine summer and a very full day for the Alp farmers – which started with milking and cleaning the cows at 1 am and readying the Alp huts for winter – have come to a close in this beautiful valley in Switzerland.
To make plans to attend this very special tradition at next year's Justistal Chästeilet, mark your calendar for Friday, September 21, 2018.
The traditional Justistal Chästeilet has been held for 300+ years in this remote Alpine valley in central Switzerland. At that time  regional farmers organized into a cooperative, jointly deciding on all matters of alp farming in the region. This is another example of Swiss direct democracy long at work.
Did you enjoy learning about this tradition? You can leave a comment below. Thank you.