Alaska dog sledding with an Appenzell-Swiss
December 28, 2016 — No comments
Sven Haltmann does not live up to the proverbial idea of a Swiss from the Canton of Appenzell. Very tall at just under two meters height minus the ear-ring, slender, energetic and totally passionate about winter, dog mushing and Alaska, I met up with him on his property outside of Fairbanks, Alaska. I had learned about this professional dog musher through an earlier chance encounter with his sister Nadja in Switzerland who runs the 450 year old Urwaldhaus Wirtschaft zum Bären in Rehetobel, Appenzell.
Sven's dazzling smile lights up his entire countenance and its unexpected suddenness is difficult to capture on camera. It seems typical for the man who describes himself as having been a "wild boy growing up in Appenzell, dreaming early on of wolves and bears and Alaska's wilderness". He loved animals and as a teenager thoroughly enjoyed spending his summers on the Alpstein away from civilization, working on an isolated alp, taking care of the animals and learning about responsibility.
Sven worked hard to make his boyhood dreams come true. Today, a 40 minute drive outside of Fairbanks and away from city lights, his property is one of the best Northern Lights observation points in the world's top Aurora Borealis viewing area. The dog musher runs his sixty dogs daily on 20 acres of wilderness bordering the Alyeska pipeline. My daughter Julie and I had the privilege to go for a one hour ride in the December cold of minus 20 degrees Celsius with the master himself. Wearing double socks, heat warmers in our boots and gloves, double hats with a shawl pulled up to our eyes and of course snow pants and jackets with several layers underneath, we thought we were well prepared. My feet and hands kept warm, though my thighs I couldn't feel any more after a while – and – beware – my camera was literally frozen. (It thawed in the next few hours and luckily, the camera didn't seem to sustain any damage.)
It was all worth it. The sled ride was magical under the glorious stars despite the sharp, dry cold. The snow and Sven's headlight the only illumination, 12 dogs pulled at fast speed up and down and around a snowy path that reminded me of the woods in the Swiss Alps. After the ride and a good pat for each of the face licking, happy, tail wagging Alaskan husky dogs, we animatedly shared a delicious home cooked meal in Sven's 24 foot yurt with his other international guests that night.
Iditarod – "The Last Great Race on Earth"
Besides running tourist mushing programs, Sven has participated four times in the famous Iditarod dog sled race. Run yearly, simulating the initial mail and supply route which became famous in 1925 for bringing life saving medicine from Anchorage to the diphtheria-ravaged peoples of Nome 1,000 miles distant, the race pits mushers and animals against some of nature's roughest terrain. Held in March with temperatures far below zero, wind that can cause complete loss of visibility, treacherous climbs, frozen rivers, dense forests and desolate tundra it is an extreme race that attracts people from all walks of life.
Sven spends a year in daily training, preparation and fund raising. Each race requires an investment of $50,000 in food and equipment. The winner takes away the grand prize of $70,000; – clearly, it's a labour of love! During the race, he prefers to run his dogs at night as they run more efficiently. Up to 11 hours continuous running, the record winning time sits at just over eight days, but each musher is required to carry equipment and feed for up to three weeks on the trail, just in case. The 20 to 30 international race teams (including one or two from Switzerland every year) are looked over at various check points and mandatory layovers, and the dogs are thoroughly inspected for injury. Mushers and dogs also get tested for drug use.
On average, Sven gets about two hours of sleep every night as he massages his dogs, feeds them, puts hand warmers into their booties and heat pads on their bodies to heat up their muscles when they rest, and then checks for damage and mends the sleds on this up-and-down-hill Alaskan race.
A particularly desolate stretch called northern sound is totally flat and open 360 degrees. "You do not know where the ocean is when you turn around, and dogs and mushers are lost. It is a very boring, but dangerous place, so when I get tired I tie a rope around my waste." To combat tiredness and hallucination, Sven runs comedy and rock-n-roll tapes with an occasional "Hudigäggeler" in his headphones while he blasts through the Alaskan wilderness, at night, with his dog team.
This year, Sven was training to enter the gruelling 1,000 mile international Yukon Quest sled dog race from Whitehorse, Yukon, to Fairbanks, Alaska, in February 2017. Because of the harsh winter conditions, difficult trail and limited support that competitors are permitted, it's considered the "most difficult sled dog race in the world". Because of a technicality, Sven just missed the application deadline for this race. But I think he might already be aiming for the next Iditarod! If you visit Sven Haltmann and his dog team on his Fairbanks mushing property or at his remote Bettles Lodge, you can get a miniature taste of it!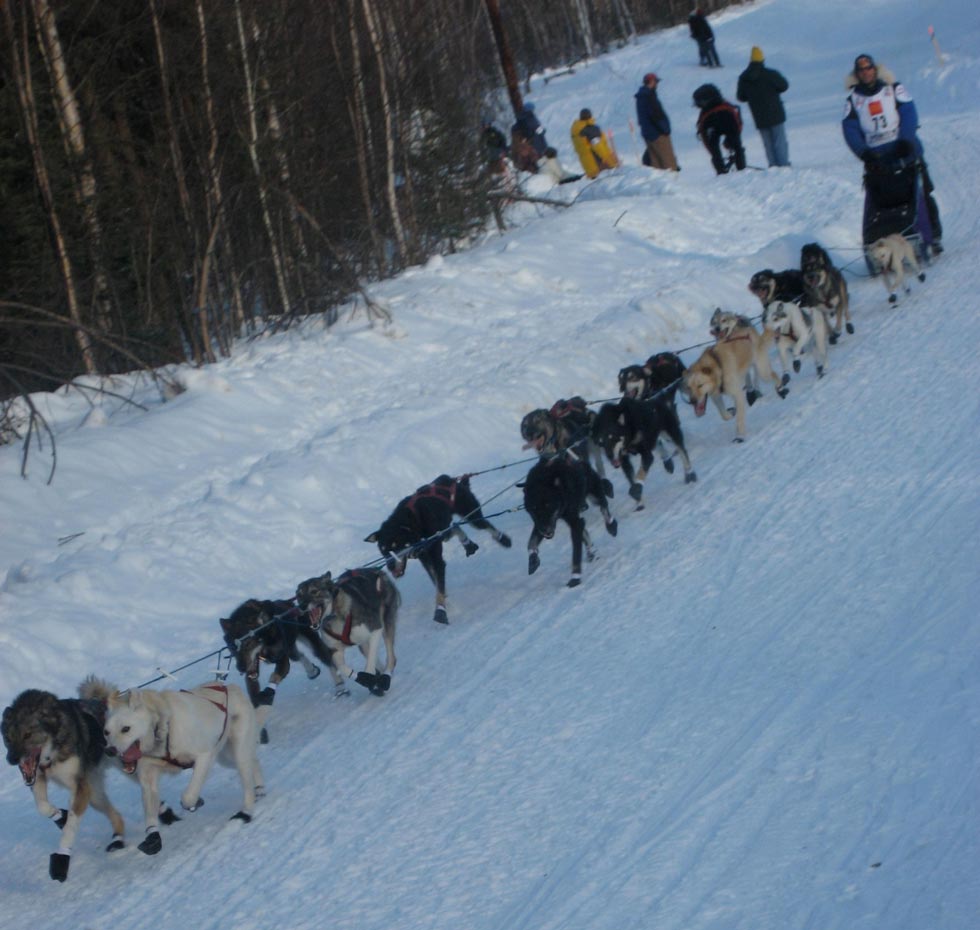 Final run of Sven Haltmann's 2011 Iditarod Race and after passing the finish line.
(Photos: courtesy Sven Haltmann)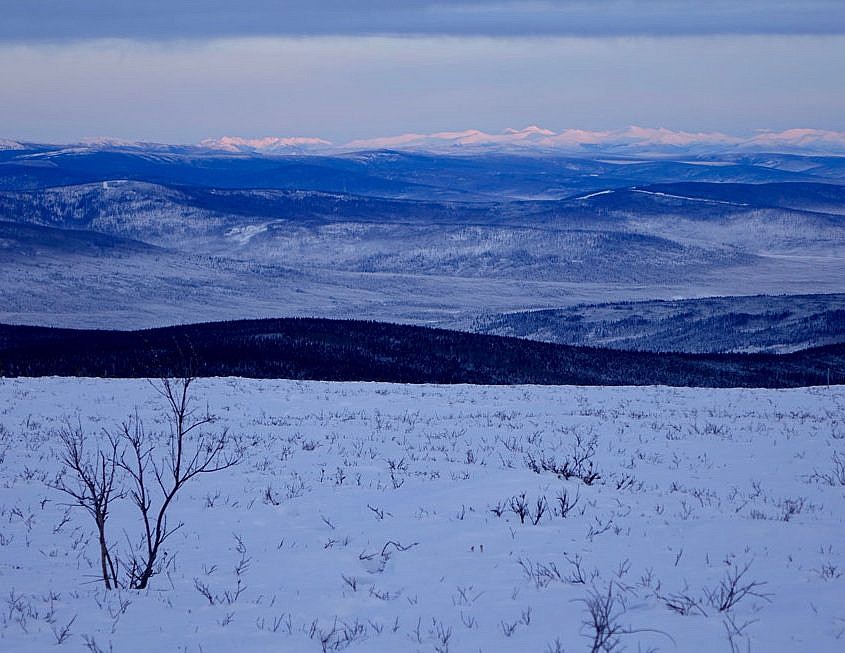 Have you been to Alaska, dog mushing or would like to? You can leave a comment below.